Chances are, if you're in to mid-century design and have scoured images of statement-making chandeliers from that era, you've seen the work of Gaetano Sciolari. A quick browse on houzz shows us how his designs, from the 1950s – 70s, inspire everything around them.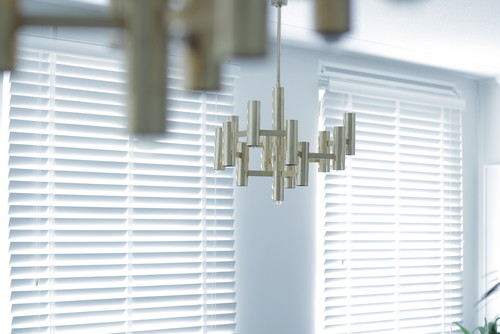 Well, guess what? We've snagged one of these beauties for The Brass Knob's vintage chandelier collection:

We are best known for architectural antiques dating before 1940, but our focus is always on great design. So when we see a piece that's more contemporary, but which has the power to light up an interior (pun intended!), we grab it.
In this case, we were also intrigued with Sciolari's story. Gaetano Sciolari was the child of an Italian family that had been in the lighting business since 1892, according to this biography—practically since electricity was invented. Gaetano started designing on his own for the Italian manufacturer Stilnovo in the 1950s. His work—using spherical bulbs, mixing brass and chrome, satin and polished metal—was the perfect precursor of the Disco-drenched 1970s, which is about when the chandelier we've got was made.
Come check it out in person (if it's still here), and while you're here, peruse our two floors of antique and vintage lighting, hardware, fireplace mantels, tile, garden ornaments, ironwork and stained glass. You'll never know what you'll find (and sometimes neither do we!).