We've long since dispensed with the necessity of using our shutters for their actual purpose—protecting windows from the elements. Yet even though we all acknowledge that shutters are added to windows for purely decorative reasons, there's something to be said for giving them the gravitas of shutters that work as intended.
The shutters on this DC home by local architects Barnes Vanze illustrates the point: Not only could they close and fully cover the windows, but they have the appropriate hardware to keep them open: Shutter dogs.
One of the things we love at The Brass Knob is sourcing antique and vintage hardware to complement doors and windows in home, from knobs (obviously) and hinges, to lesser known—but no less important—fixtures such as shutter dogs. Not only do they serve a purpose, but in their heyday, metalworkers made them in oodles of styles and finishes—and we've got a large collection of them here. We typically sell them as replacements for shutters that already have them, and are missing one or two.
By far, the most popular form is the S shape, like you see above:
They add beautiful, sinuous lines to an otherwise rectilinear exterior, such as this Massachusetts house by Pastiche of Cape Cod:
or this formal design in Charlotte, NC:
But shutter dogs come in much more whimsical designs such as stars, shells and floral patterns.
Want to announce that fine wine is enjoyed in your home? There's a design for that, too:
You might notice the long arms that the grape-shaped shutter dogs are attached to. These types of fixtures give more visual heft to the shutters as they extend from the window sill. Here's an example at this Pennsylvania home by Peter Zimmerman Architects: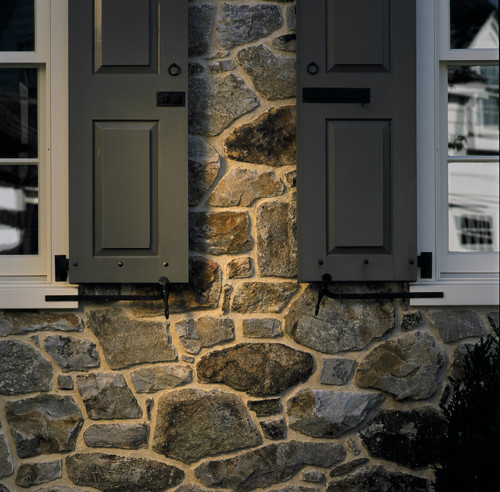 Our long-arm shutter dogs come in different shapes and designs:
We also have some beautiful hand-wrought shutter dogs. The craftsmanship is gorgeous:
Our period hardware is showing its age, but if you do not like this look we can refer our customers to metal refinishers to restore them to their original appearance. Sometimes, though, it's just a matter of stripping old paint or wire-brushing off some rust before painting them anew.
In any case, it's worth a visit just to see the craftsmanship of this old metalwork, crafted when shutters had to be kept open when they weren't, well, shut.